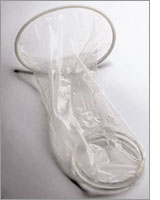 Liberals want fewer unintended pregnancies and more empowerment for women. 
Conservatives want fewer abortions. 
Everybody wants to reduce HIV and other sexually transmitted infections. 
We can keep yapping about these things, or we can do something constructive.
Here's something constructive: female condoms. If you don't know what they are, read about them here, here, and here.
The Roman Catholic Church has consistently condemned abortion — the direct and purposeful taking of the life of the unborn child. In principle, Catholic Christians believe that all life is sacred from conception until natural death, and the taking of innocent human life, whether born or unborn, is morally wrong. 
The Church teaches, "Human life is sacred because from its beginning it involves the creative action of God and it remains for ever in a special relationship with the Creator, who is its sole end. 
God alone is the Lord of life from its beginning until its end: no one can under any circumstance claim for himself the right directly to destroy an innocent human being" ("Donum vitae," 5).
During a pro-life rally on March 29 outside the Cathedral of Sao Paulo in Brazil, Cardinal Odilo Pedro Scherer announced to the more than 5,000 people gathered that "abortion is a defeat for medicine."
After explaining to his audience that "the health of women who are raped can be recovered through medicine," the cardinal pointed out that "abortion is a radical attack against life. The Church supports everything that is done to save life. Abortion is a defeat for medicine."