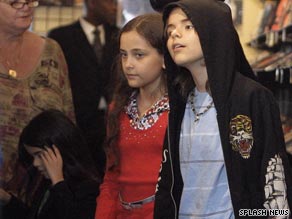 From left: Prince Michael Jackson II, Paris-Michael Katherine Jackson and Michael Joseph Jackson Jr.
LOS ANGELES, California (CNN) -- Michael Jackson's three children asked to see their father's body in the UCLA emergency room after they were told he was dead, according to the lawyer for Jackson's personal doctor.
"My understanding is that they did" see the body, attorney Ed Chernoff said.
On Monday, the children, ages 7, 11 and 12, were placed under the temporary guardianship of their paternal grandmother, Katherine Jackson, by a Los Angeles judge.
The biological mother of Jackson's two oldest children, Debbie Rowe, will be invited to a hearing next Monday in which the judge will consider who should have custody of them. She has, so far, not publicly indicated whether she will challenge the Jacksons for custody.
The Jackson family said it has not found a will for the singer, which would leave the division of his estate to the court.
The judge Monday also gave Katherine Jackson temporary control of her son's "tangible personal property."