To celebrate Father's Day, the
Wildlife Conservation Society
released this photo of the lion, "M'wasi", and his daughter Moxie taken at the Bronx Zoo by photographer Julie Larsen Maher.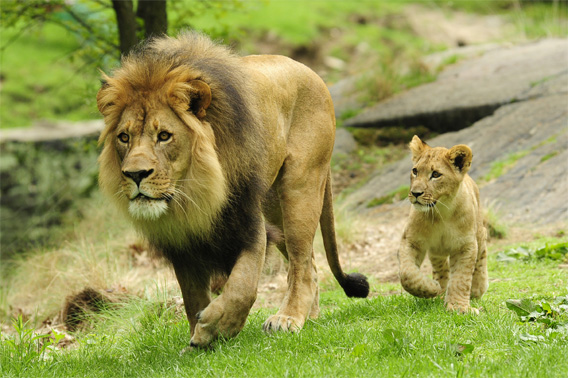 The lion is the second largest cat after the tiger. It ranges from Sub-Saharan Africa to India. The Bronz Zoo is open 365 days a year.
Many people celebrate Fathers Day as a day to express gratitude and appreciation to their fathers by giving them presents or greeting cards.
As I was writing this blog, I received sms from my daughter Constance, "Hi Dad, we have appointment tomorrow for body and foot massage, ok, at 11.00am. So make yourself available for 3 hrs." "Hmmm ... my old bones and weak knees need those massage," I told myself. Without hesitation I accepted her invitation.
Father's Day comes on the third Sunday in June which, for this year, falls on 21st June. Father's Day was started in 1910 by Mrs. John Dodd of Spokane, Washington. The custom spread throughout the United States and in 1936 a national Father's Day committee was formed. Headquartered in New York City, the committee annually selects a Father of the Year. Some of the fathers who have won this title are Douglas MacArthur, Dwight D. Eisenhower, and Harry S. Truman.
The word 'Father' is often used to honour spiritual leaders, inventors and originator of an idea, product, service or person. It is so, that fathers have always been associated with guidance and protection, as the person who can be loved, respected and looked up to. Let's use the Father's Day to let these special men know what place they have in our lives and what influence they have on us. Since tomorrow is Father's Day, don't forget to make this day special day more special!
Let me share with you this poem "The Old Man Dreams" by Oliver Wendell Holmes:
Oh for one hour of youthful joy! Give back my twentieth spring! I'd rather laugh, a bright-haired boy, Than reign, a gray-beard king.
Off with the spoils of wrinkled age! Away with Learning's crown! Tear out life's Wisdom-written page, And dash its trophies down!
One moment let my life-blood stream From boyhood's fount of flame! Give me one giddy, reeling dream Of life all love and fame!
My listening angel heard the prayer, And, calmly smiling, said, "If I but touch thy silvered hair, Thy hasty wish hath sped.
"But is there nothing in thy track To bid thee fondly stay, While the swift seasons hurry back To find the wished-for day?"
"Ah, truest soul of womankind! Without thee what were life? One bliss I cannot leave behind: I'll take - my - precious - wife!"
The angel took a sapphire pen And wrote in rainbow dew, The man would be a boy again, And be a husband, too!
"And is there nothing yet unsaid, Before the change appears? Remember, all their gifts have fled With those dissolving years."
"Why, yes;" for memory would recall My fond paternal joys; "I could not bear to leave them all - I'll take - my - girl - and - boys."
The smiling angel dropped his pen, - "Why, this will never do; The man would be a boy again, And be a father, too!"
And so I laughed, - my laughter woke The household with its noise, - And wrote my dream, when morning broke, To please the gray-haired boys.
On a lighter note:
Who is the Winner? The father of five children had won a toy at a raffle. He called his kids together to ask which one should have the present. "Who is the most obedient?" he asked. "Who never talks back to mother? and "Who does everything mother says?" Five small voices replied in unison. "Okay daddy! You get the toy."
HAPPY FATHER'S DAY TO ALL MY READERS!