Lent starts next Wednesday, February 17th. That's why between now and then Catholics should read Pope Benedict's Message for Lent 2010.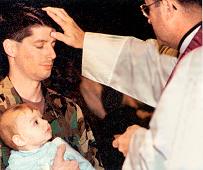 Ash Wednesday
At the beginning of Lent, on Ash Wednesday, ashes are blessed during Mass, after the homily. The blessed ashes are then "imposed" on the faithful as a sign of conversion, penance, fasting and human mortality.
The ashes are blessed at least during the first Mass of the day, but they may also be imposed during all the Masses of the day, after the homily, and even outside the time of Mass to meet the needs of the faithful.
Priests or deacons normally impart this sacramental, but instituted acolytes, other extraordinary ministers or designated lay people may be delegated to impart ashes, if the bishop judges that this is necessary. The ashes are made from the palms used at the previous Passion Sunday ceremonies.
Read More HERE on what to do during Lent.